I help people to launch their Security Token Offering and create business models for the financial industry.
Watch my TEDx speech: How humans adopt new technology
About Me
STO Advisor & Bestselling Author
Max has helped top notch startups in the field of ICOs and IEOs to grow. He is a Security Token thought leader and a bestselling author.
On MaxKops.com, he educates people about tokenizing assets or fundraising for startups with the help of a Blockchain.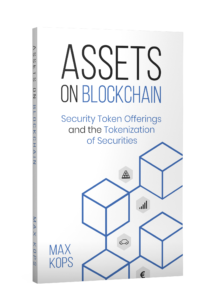 Get my book now!
The standard literature about security tokens and STOs. No buzzwords, but a compelling summary. Written for startups, finance experts and Blockchain believers. No pre-knowledge required.
Value Drivers
SECURITY TOKEN • BLOCKCHAIN • ENTERPRISE SOLUTIONS
Previous projects
my clients and the solutions I have built for them
Prototyping a Blockchain based contract management solution

For the internal use of SAP, the project's aim was specified as releasing efficiency gains due to the use of a Blockchain to manage specific contracts.
Strategic Token sale Advisory, Marketing and Content Strategy 

To build the next generation of a decentralized marketplace for simple jobs that gives the power of time and money back to people, Mycro has conducted an IEO.

Strategic Advisory for the token sale

Marketing Strategy

Content creation focused on Blockchain concepts
Let's Work Together
TELL ME MORE ABOUT YOUR PROJECT